Firefox everywhere in sync - secure and private!
Convenience and privacy at the highest level.
FF-Sync is your synchronization server for the popular web browser Firefox. We mean this literally: your serverBecause unlike the service provided by Mozilla, you can operate FF-Sync yourself. In your own environment, under your own control. So all your Firefox installations always have the same bookmarks, favorites and passwords. At the same time, your data remains protected and does not end up on servers you cannot control. Convenient and secure. And incredibly practical!
With FF-Sync, you can synchronize all the important information of your Firefox web browser. In addition to your bookmarks, you can synchronize browser settings, passwords, the history of visited websites and open tabs to all stored Firefox installations. No matter where you have just found an exciting page on the Internet, FF-Sync makes it available on all of your devices.
FF-Sync is a product of m-privacy GmbH, the Berlin specialist for IT security and data protection. The hardened system reliably prevents unauthorized leakage of your browser data. Of course, all connections are encrypted. Anti-automation functions and brute-force protection create a plus in security.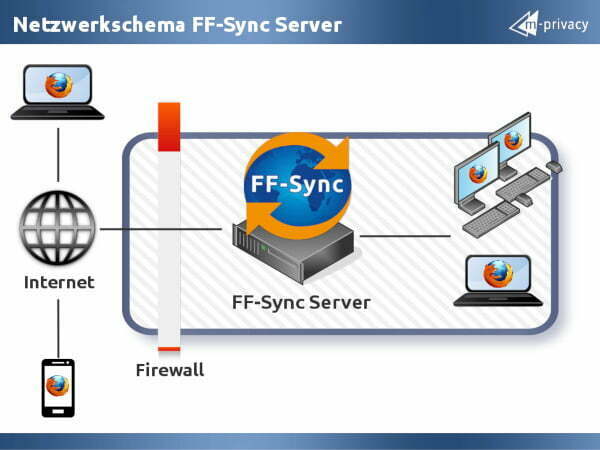 50 Accounts
(annual payment plus 19% VAT)
100 Accounts
(annual payment plus 19% VAT)
250 Accounts
(annual payment plus 19% VAT)
500 Accounts
(annual payment plus 19% VAT)
FF-Sync runs on your system, not on a cloud server somewhere on the Internet. So you always have full control over the system and the data. FF-Sync works independent of external Internet services and can run in isolated mode.
Bookmarks and stored access data represent important and sensitive information. With FF-Sync, they are always available and cannot be lost thanks to central storage.
FF-Sync does not require any complicated configuration. A web-based administration interface is available for making changes. This allows you to manage your user accounts effortlessly and have a complete overview.