Do you have any questions or would you like more information about us and our products or services? Please contact us via one of the listed contact options and we will respond to your request as soon as possible.
In case of a malfunction in professionally used IT systems, fast and competent help is indispensable. The m-privacy GmbH offers various channels where our customers can receive fast and unbureaucratic support. Choose from the following options and please have your customer number ready so that we can provide you with targeted and effective support.
Electronic trouble ticket system
Our recommendation! This procedure has many advantages over telephone inquiries or e-mails in the case of customer service: Your request reaches our entire support team at the same time and all information is stored centrally until final processing. So your request will be answered faster and more precisely! If you as a customer do not yet have an access code to our ticket system, you can create one with just a few mouse clicks - free of charge, of course.
To the trouble ticket system >
Privacy policy >
Mail to our customer service
... quite uncomplicated! Simply send a message by e-mail.
Contact us by telephone
Minor problems can often be solved over the phone, even particularly urgent cases should always be reported by telephone. You can reach us from Monday to Friday from 9 am to 5 pm.
Phone: +49 30 24342334
Support Hotline: +49 30 23632204
Please support us in keeping your communication with us confidential. Please use PGP or GnuPG to encrypt your e-mail. You can download our GnuPG/Open-PGP key here: mprivacy.asc [2 KB]
For a quick verification of the integrity of our key, we use the
PGP Fingerprint: FCBA 08F2 D39E B9D7 A7AD B3C5 49E3 C159 3AE8 3223
Created on: 2010-08-05
Ablaufdatum: 2021-07-03
Key ID: 49E3C1593AE83223
You will find us directly at the S-Bahn station Südkreuz, which is located on the S-Bahn. We therefore strongly recommend travelling by S-Bahn - it's hard to get any faster and easier. In this case, leave the S-Bahn station through the Osthalle (dm-drugstore and McDonald's) in the direction of Werner-Voß-Damm. Climb the wide steps and cross the street straight ahead into Werner-Voß-Damm. Our building is only 100 meters further on the left side.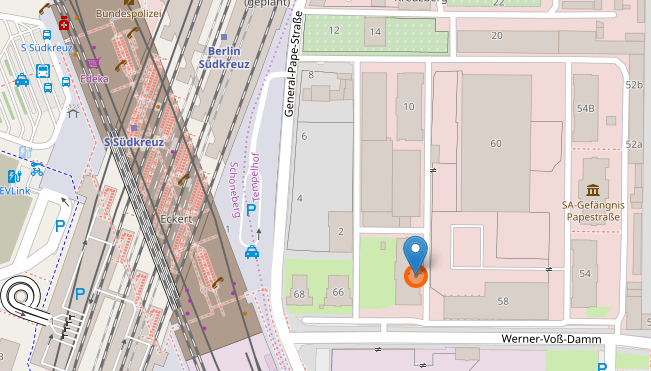 Office Berlin
Werner-Voß-Damm 62
12101 Berlin
Germany
Email: info@m-privacy.de
Phone: +49 30 24342334
Support
Werner-Voß-Damm 62
12101 Berlin
Germany
Email: support@m-privacy.de
Phone: +49 30 24632204