Initial Data Protection Analysis
Analyze, design & optimize.
You have to meet defined data protection requirements and need a determination of the current status? An initial data protection analysis provides clarity and forms the basis for more detailed reviews and in-depth audits prior to certification procedures. By knowing your organization's data protection situation, you benefit in several ways and make targeted use of optimization potential. Die Datenschutz-Erstanalyse ist insbesondere empfehlenswert vor dem Hintergrund des Inkrafttretens der EU-Datenschutz-Grundverordnung (EU-DSGVO).
Data Protection - A Management Task
Gesetzliche Vorgaben erfordern professionelle Vorgehensweisen in Sachen Datenschutz, gerade angesichts der Anforderungen der EU-Datenschutzgrundverordnung. Doch welche Maßnahmen sind organisatorisch umsetzbar und finanziell sinnvoll? Sprechen Sie mit uns und entscheiden Sie dann. Wir informieren Sie anhand Ihrer konkreten betrieblichen Erfordernisse unverbindlich und kostenfrei.
Gemeinsam mit Ihnen erheben wir die Datenschutzsituation in Ihrer Organisation oder Ihrem Unternehmen. Datenschutz und IT-Sicherheit gehen dabei Hand in Hand. Wir legen besonderen Wert auf die ganzheitliche Betrachtung von IT-Sicherheitsaspekten und der eingesetzten technisch-organisatorischen Maßnahmen. Unsere Analyse ist individuell auf Ihr Geschäftsfeld und Ihre Organisation zugeschnitten.
This is what the expert says
Your questions - our services
Do you process personal data in your organization or do you have them processed by service providers on behalf of your organization? Then you should get an overview of which legal requirements you have to fulfill.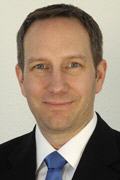 Short Vita Roman Maczkowsky
Roman Maczkowsky is a certified team leader for audits according to ISO 27001 natively as well as on the basis of IT-Grundschutz, also according to the Energy Industry Act (EnWG) for energy providers and operators of critical infrastructures. He is a proven specialist in corporate data protection and worked, among other places, at the Schleswig-Holstein Independent Center for Privacy Protection (ULD) and for the Berlin Commissioner for Data Protection and Freedom of Information. Roman Maczkowsky is a BSI-licensed IS auditor and IS consultant and works as an instructor in the training of data protection and IT security officers.
Call us and let us make you a non-binding offer for an initial data protection analysis!