do not have to be permanently employed!
External competence for your company.
Betrieblicher Datenschutz ist ein komplexes Thema und gehört in die Hand eines kompetenten Verantwortlichen. Dies bedeutet jedoch nicht zwangsläufig, dass die Stabsstelle eines dedizierten Datenschutzbeauftragten im Unternehmen geschaffen und besetzt werden muss. Selbst wenn die Größe der Organisation und der resultierende Umfang anfallender Datenschutzangelegenheiten eine betriebsinterne Besetzung nahelegen, ist der externe betriebliche Datenschutzbeauftragte organisatorisch und wirtschaftlich oft die bessere Wahl. Insbesondere vor dem Hintergrund komplexer und veränderlicher Rechtslagen, etwa im Hinblick auf die EU General Data Protection Regulation (EU-GDPR), a quick transfer of competence is guaranteed and legal certainty is maintained at all times.
Für viele Organisationen sind Daten wesentlicher Bestandteil des Betriebsvermögens. Ob Kundenkartei oder geschäftsmäßige Verarbeitung personenbezogener Daten im Auftrag: Sie müssen nicht auf professionellen Datenschutz verzichten, auch wenn die Besetzung einer dedizierten Stabsstelle in Ihrer betrieblichen Situation möglicherweise nicht sinnvoll erscheint.
Benefit from our expertise and experience. We take on all the tasks of an external data protection officer in accordance with Art. 39 DSGVO and, if necessary, act on behalf of your company towards outsiders. We tell you which legal requirements you have to meet and accompany you continuously in the development of practice-oriented solutions.
This is what the expert says
Your questions - our services
... reduces business risks
Eine rechtssicher geführte Datenverarbeitung ist eine gute Grundlage für Geschäftsentscheidungen und mindert langfristig Risiken in Bezug auf Datenverlust, Fehlinvestitionen oder Bußgeldzahlungen.
... promotes the corporate culture
Proper processing of employee data helps to avoid conflicts with employees. With data protection training and consulting, uncertainties regarding data processing powers are avoided. This ensures clarity and creates a positive working atmosphere.
... creates values
Unternehmen unterschätzen den Wert ihrer Daten oft. Ob Kundenkartei oder Newsletter-Empfänger: Daten repräsentieren Kapital. Professioneller Datenschutz hilft, diese Werte zu identifizieren und zu bewahren.
... strengthens IT security
For the protection of personal data, sufficient technical and organizational measures must be taken – this is applicable law. The systematic recording and documentation of these measures also strengthens the security of the IT environment and contributes to an efficient work culture.
... has radiance!
Ein solider Datenschutz trägt zu einem positiven Unternehmensimage bei und schafft Vertrauen. Kunden und Geschäftspartner wissen ihre Daten in guten Händen.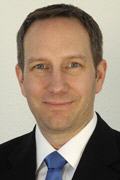 Short Vita Roman Maczkowsky
Roman Maczkowsky is a certified team leader for audits according to ISO 27001 natively as well as on the basis of IT-Grundschutz, also according to the Energy Industry Act (EnWG) for energy providers and operators of critical infrastructures. He is a proven specialist in corporate data protection and worked, among other places, at the Schleswig-Holstein Independent Center for Privacy Protection (ULD) and for the Berlin Commissioner for Data Protection and Freedom of Information. Roman Maczkowsky is a BSI-licensed IS auditor and IS consultant and works as an instructor in the training of data protection and IT security officers.
Upon completion of the Initial Data Protection Analysis , we will gladly make you an individual offer for the position of an external company data protection officer.